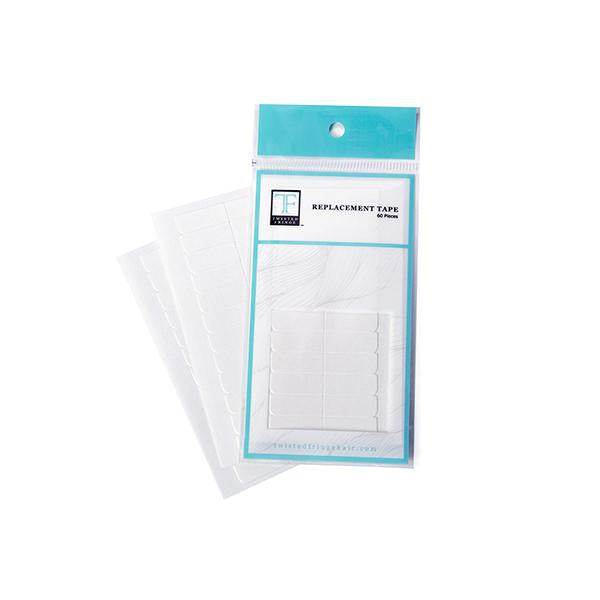 Twisted Fringe Replacement Tape
Reuse your Tape Extensions with Twisted Fringe Replacement Tape.
Double-sided Replacement Tape
Features non-slip adhesive for secure hold
Designed to fit Twisted Fringe Tape Extensions
60 pieces
Color: clear
Can be removed with Tape Remover
Note: Do not apply Replacement Tape to Tape Extensions until old tape has been completely removed using the Tape Remover.
High-Quality Tape-In Extensions
In as little as 30 minutes, you can change a client's look and bring a glowing smile to their face. Our Tape-Ins are top quality 100% Remy human hair with double-stitched wefts and medical-grade adhesive with long-lasting power.
PRODUCT DETAILS
10 pre-taped wefts per pack
Available in 18" and 22" lengths
100% Remy human hair that can be washed, dried and styled with natural hair
APPLICATION DETAILS
Application time: 30 minutes to 1 hour
Lasts 6-8 weeks with proper care between move-up appointments
Semi-permanent and may be reapplied up to 3 times
MORE DETAILS
Gentle on hair - no heat or tools needed for fast and easy installation
Cuticle intact, naturally treated with no chemical exposure
Available in 20 radiant, pure shades
Can be used to add length, volume and pops of color
Ethically sourced and manufactured with integrity and care
*For professional use only.
Installation & Removal
Proper installation and removal makes all the difference. Avoid slippage and hair pulling by learning our signature approach. Ensure quality and long-lasting results for your clients by watching our videos and completing our certification classes.
Ready to grow as a stylist and power up your skills behind the chair? We want you selling and installing extensions with confidence and a comprehensive understanding of the tools and techniques you need.
Check out this video to learn more
Tips and tricks for fast and efficient installs
How to create a seamless, secure hold
Best practices so your client's extensions feel comfortable